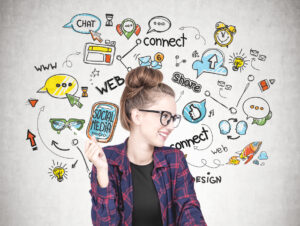 Everyone knows that having a website is good for business. But if you want a website that's great for business, you need a website strategy.
A website strategy aligns your business and marketing goals to ensure you get the most out of your website. A website plan helps you grow your business, reach more customers and achieve business goals.
But where do you get started? Here we provide an overview of all the essential elements that go into an effective website strategy.
Whether you are redesigning your website or starting a new one, we cover all the basics, including the following:
Definition of a website strategy
Setting your website's objectives
Defining your target audience with user personas
Checking out the competition
Developing a user journey
Measuring your success.
Let's dive in with a definition.
What is a website strategy?
A website strategy is a long-term action plan. It sets out how the content, layout, and user journey will support your business objectives.
In short, a website strategy gives your website purpose and makes it easier for you to track progress. And it's the foundation for success in the digital world.
Why is a website strategy plan so important?
Think of your website strategy as a game plan. It takes you from where you are to where you want to be. The best strategies understand prospects and create a path that leads them through the website, answering their questions and solving their business problems.
A thoughtfully-planned website strategy ensures more visitors convert into leads and customers.
And that's good news for your business.
Websites without a strategy struggle
Without an effective strategy, customers just won't get your website.
You may not speak to prospects directly. And the user journey is often disjointed, unconnected, and chaotic. Instead of generating more leads and sales, users switch off and, worse still, seek out a competitor's site.
Set objectives for your website strategy
Setting objectives for your website is the critical first step. Every business is different. Your goal might be to increase sales or generate leads. For others, the priority could be building trust and brand authority. Aims and objectives will help define the content and structure of your site.
Here are the critical questions to ask when developing goals for your website strategy.
Purpose: What's the point of our website?
Vision: Where's our website and business going?
Audience: Are we giving our visitors a good experience?
Success measures: How do we know if our website is effective and we're getting an ROI?
Once you have identified your overall objectives, it's time to think about your target audience.
Define your target audience with user personas
Your website shouldn't be all about you. It should be focused on users and addressing their needs. You want site visitors to have a great experience. Easy navigation and relevant content will deliver a seamless buyer journey tailored to your target audience.
And if users have a great experience, they'll keep coming back.
User personas are a handy tool to help drill down into users' needs. Instead of only imagining potential customers, user personas ensure you get up close and personal. Create a fictitious representative of your target audience. Give them a name, age, and education level. Next, think about their background, skills, and the platform they use to get to your website. It could be social media, PPC ads, or a Google search.
Creating user personas ensures your company website strategy aligns with the target audience.
Check out the competition
Checking out competitors' websites is great for generating ideas and working out what sets you apart. Make a note of the features you like and find out what works well or not so well.
You may want to conduct a SWOT analysis on the top three sites. This helps determine which online marketing channels you should focus on and where you can cut costs by eliminating ineffective ones.
Developing a user journey
The user journey sets out the steps visitors take to navigate your website and find what they're looking for. This is a vital part of your website plan. It identifies the content and structure needed to keep users moving through their journey. And it influences everything from website design and images to layout and sequencing.
Get this right, and your website will tick all the boxes from lead generation and conversions to sales.
Measuring success
You're almost there! The final step to creating a killer website design strategy is identifying success measures.
The only way to track progress and ensure the site meets your goals is to collect and analyse metrics. A great starting point is Google Analytics, which has a host of insightful data on your site. Possible measures to track include the following:
Traffic to your website and the source
Time on site and most visited pages
Number of contact forms completed
Lead volumes
Conversion rates and cost per lead
These are just some of the options, and a lot depends on your business and the site's purpose. However, a broad set of metrics builds up a comprehensive picture of where you're at. And depending on the insights gained, you can tweak your website strategy as needed.
Website strategy: Main takeaways
With over a billion websites to choose from, attracting visitors to yours is a continuous challenge.
A website strategy provides a roadmap and a clear sense of direction. User personas and metrics help you stay relevant with your target audience. While a seamless buyer journey will see you generate more leads and conversions.
Ready to get started on your website content strategy but feeling overwhelmed and stressed? Help is at hand. Let the expert team at Write Solutions develop a compelling website content strategy for you. Get in touch today.