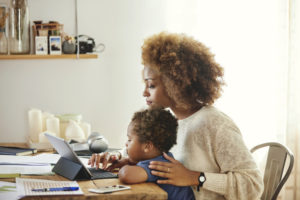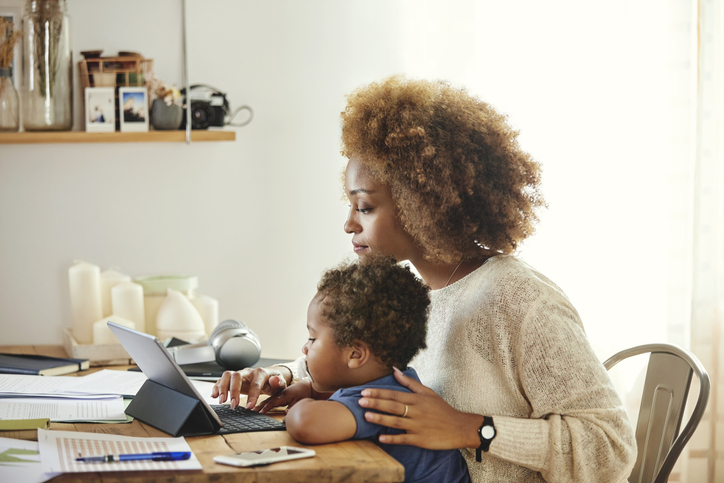 It's week two of the lockdown and how is the remote working going? As the reality of sharing your workspace with fellow homeworking partners and online-learning children starts to bite, staying focused during the lockdown becomes more of a challenge. Here at Write Solutions, we know all about remote working as we have operated a work-from-home policy for some time. In this post, we share some tips on how to stay focused as remote working becomes the new norm.
Set Up A Home Workspace
You may well have successfully worked from home in the past. However, the odd day spent in splendid isolation completing a critical report is entirely different from a long-term lockdown. With other family members and children competing for space on the dining room table, it's essential to set up a dedicated workspace.
A separate room is ideal, but if that's not possible, then at least find a quiet corner somewhere. And to minimise disruptions, make sure family members know and respect when you're at work. This can be a challenge for small children in particular, so you may need to set up a tag team system with your partner. Perhaps one of you works in the morning while the other entertains the kids and then you swap over for the afternoon.
It's impossible to hold a conference call with a screaming toddler on your lap. So schedule video or audio calls for a time when the toddler's asleep or your partner can definitely take over the reins.
Flexibility and compromise are what's required for successful home working.
Stick To A Regular Routine
Easier said than done, I know when you're living on top of your nearest and dearest. But a regular routine provides some structure to your day. Get up at the same time each morning and try to be at work at set times. That way, colleagues and contacts will know in advance when you're available.
Take regular breaks. Spend 10 minutes playing with the kids or share a morning coffee with your partner. And take a proper lunch break. Flick on the TV for some downtime, or catch-up on social media. The important thing is to take a proper break from work just as you would if you were in the office.
Most important of all, make sure you take some daily exercise. Whether it's walking the dog, going for a run around the park or a family bike ride, fresh air, sunshine and exercise are good for all-round wellbeing.
Focus On Outputs
Working from home requires a change in mindset for both you and your employer. While traditionally, productivity has been measured by time spent in the office, home working is different.
The good news is that remote workers are often more productive than their office counterparts. A recent two-year study from Stanford University confirmed that more focus when working leads to a massive increase in home workers' productivity. The truth is, you may be spending less time logged on each day, but chances are you are achieving more output.
So, don't get too stressed about always being available. Instead, set yourself a to-do list each day and quietly get on with it. At the end of the day, your boss is more interested in the tasks you have achieved rather than how long it took.
Watch Out For Your Mental Wellbeing
Cabin fever, tense family relationships as well as worries about your health and money make for skyrocketing stress and anxiety.  You'll find it hard to focus on work, which will only compound your stress levels.  These are unprecedented and difficult times for us all.
Finding ways to relieve pressure is essential. Fresh air and exercise will be central to this, but explore what else works for you. Checking in with friends or colleagues via Zoom has replaced Friday drinks for many. Others are using social media or instant messaging apps like WhatsApp to stay connected or share inspiring images and funny videos. Maybe you have a favourite Spotify playlist that you like to listen to while working. Whatever it may be, make sure you have tools available to get out of your bubble, connect with others and look after your mental wellbeing.
And most important of all, make sure you log off at night. With email notifications and IM pings on our cell phones constantly bombarding us, switching off can be hard. It can be tempting to just send that late-night email or respond to the query from your colleague. Be firm and resist the temptation and your mental health will thank you in the long run.
Learn Something New
With the entire country in lockdown, the reality is that work is likely to slow for many of us. This can be unnerving and worrying in itself as we stress about the future of our jobs.
Instead of being negative, try and turn it around and view this extra time as an opportunity. Why not look to learn something new. Have you always wanted to learn a foreign language? Well, here's your chance. Do you want to improve your Excel skills? Then sign up for an online course.
The possibilities are almost endless. As well as bolstering your long-term employability, lifelong learning is proven to improve happiness as well as cognitive traits like memory.
It's still early days for the lockdown and there's no doubt that the times ahead will be challenging. Use these tips to give yourself the best chance of coming out the other side with your job and family relationships still intact.