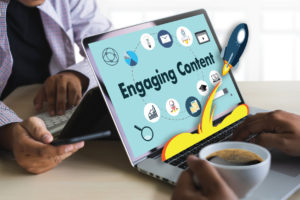 You've been staring at the blank screen for more than an hour now. You're already on your second cup of coffee, you've tried googling with no success and now you've resorted to looking out the window in search of inspiration, but somehow the words just won't come. You know your website content needs updating. It all reads a bit lifeless, a bit well…dull and boring really, but you're at a loss as to how to inject a bit of oomph into it.
If this scenario sounds familiar then you're not alone. You may not be a natural wordsmith, but the good news is that even if words are not really your thing, you can still put together copy that is attention grabbing. And here's how.
Bite-sized pieces of information
There's a reason why social media sites such as Twitter are so popular and that's because they present as with easily digestible information. And so take a leaf out of Facebook and keep your message short and simple. Ideally you should present bite-sized chunks of information with an option to click for more detail for those site visitors that want to know more.
Focus on solutions
As a business or budding entrepreneur, it can be very tempting to include every detail about your product or service. You're so enthusiastic and excited about your business that you can fall into the trap of thinking that all visitors to your website will be just as enthralled by the minutia. The truth is they're not. They are primarily motivated by their own organisational issues and are focused on the solutions your business has to offer to resolve these. So when writing your web copy, have this perspective in mind and try to showcase the solutions your offering provides potential customers.
Typographical tricks
Use headlines, numbered lists or bullet points to break up the text and draw the attention of the reader. Bold key words and use lots of images, diagrams or infographics to give your content visual appeal. The reality is that visitors to your site have short attention spans. There's so much information out there that we really have to make it as easy as possible for visitors. Helping them to effortlessly navigate your website with helpful signposts and headlines that sum up the key information is a great start.
So while you may not be the next John Grisham, using these tips will help you to craft copy that resonates with your reader and draws them in to explore your site further. And with 55 percent of visitors spending less than 15 seconds on a website, you need to maximise every opportunity.
Here at Write Solutions we know a thing or two about words and the best way to get your message across. So if you're struggling with that blank screen syndrome and are in need of a little help, then get in touch.